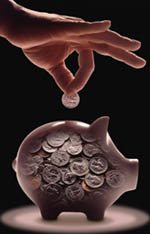 Whether you are planning for major expenses such as wedding, college or retirement, or saving for the holidays, C-B-W Schools Federal Credit Union has a savings plan to meet your savings goal.

We offers regular savings accounts, checking accounts, Christmas & Vacation club accounts, certificates of deposit and IRA accounts.

Please visit the RATES area of our web site to find current rates. Check out each account type for specific terms that may apply.